To turn points into a reward, your customers will need to log into their account on your site, then click on the launcher to open the rewards panel.
Next, click on All rewards.
If they don't have enough points to redeem, they'll see a progress bar on the right, next to the reward name.
If they do have enough points, there will be a Redeem button.

Upon clicking redeem, your customer will be taken to a page that shows the coupon code with a button to Apply code which will automatically apply that coupon code to the checkout.
To redeem points on variable rewards, your customer will need to use the points slider to select the amount of point they would like to spend, then click Redeem: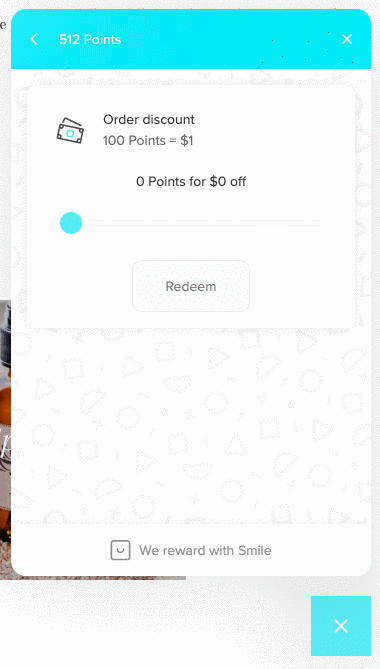 Based on your settings in Notifications, your customers also may get an email with the coupon code for their records. The code will also be stored in their rewards panel under the Your Rewards section at the bottom.
Once a customer has redeemed their points for a reward, the reward will remain in their account until they decide to use it on a purchase. Points are not automatically returned to a customers account if a reward is redeemed and not used. In the event that a customer changes their mind, we recommend disabling the coupon code in your Shopify or BigCommerce "Discounts" section, and adjusting their points balance.

Note